While many reunions seek to gather at an ancestral home site, many are increasingly becoming "destination" reunions for mini-vacations, gatherings to discover an undiscovered aspect of African American heritage or genealogical events to search for ancestral information.
The best way to choose a location is to determine which type of reunion you're organizing. The following suggested destinations have facilities and features that can accommodate any type of reunion.
Myrtle Beach and the Grand Strand
The upper coast of South Carolina is its #1 travel destination and has the state's highest volume of affordable resorts, hotels and attractions fit for large family gatherings. Find more at VisitMyrtleBeach.com, including its planning page here. An African American reunion in this region would not be complete without a visit to Atlantic Beach, one of the nation's last remaining black-owned beaches, that had been a designated beach for African Americans during the Jim Crow Era. More here. It is also anchored in the South by Georgetown and its preserved rice culture.
Charleston
As the entry point for the trans-Atlantic slave trade, the port city of Charleston has perhaps the richest African American legacy in the nation. There are dozens of sites – from plantations to historic churches – that interpret the African American experience. More here. There are also hotels suited for conventions and resorts ready to welcome families large and small. Guides offer African American tours in the historic district. Learn more about Charleston at ExploreCharleston.com.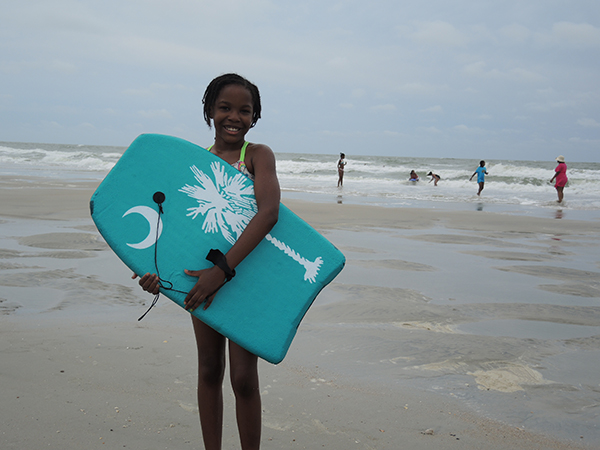 Columbia
South Carolina's capital city was a focal point for legislative change. In the 1950s and 1960s, protests took place on the Statehouse grounds, and crowds would march down Main Street to rally at the drug stores and lunch counters that refused to integrate. The state's African American monument on the Statehouse grounds illustrates much of this history. And a series of historic markers along Main Street chronicle Civil Rights protests. Columbia has convention facilities, large hotels suited for families, guided tours down Main Street and historic churches ready to welcome families. Begin planning by visiting ExperienceColumbiaSC.com.
Hilton Head Island / Beaufort
The second oldest city in South Carolina is Beaufort, a nucleus for the Gullah Geechee culture and home to sea island plantations that were abandoned after the Civil War. The nation's only national park devoted to Reconstruction is located in Beaufort, and its primary stop is Penn Center. On Hilton Head Island, Mitchelville and Fort Howell are developing into attractions that interpret one of the first villages for former slaves and a fort (built by the US Army's 32nd Colored Infantry and the 144th New York Infantry) that protected it. Guided tours are available in this region, but you can begin planning by visiting BeaufortSC.org or HiltonHeadIsland.org.
Greenville and Spartanburg
These cities serve as gateways to South Carolina's mountain country, rolling hills at the terminus of the Blue Ridge that feature waterfalls, abundant wildlife and scenic vistas. But the region also is rich with African American history, including historic churches that served new and growing African American communities in the late 19th century, Rosenwald schools that served African American children during the Jim Crow era and Civil Rights, like marches held from Springfield Baptist Church and labor strikes at Claussen's Bakery. You can start planning your family reunion by visiting VisitGreenvilleSC.com or VisitSpartanburg.com.
York County / Rock Hill
This area of South Carolina is a bedroom community of Charlotte, but has its own unique African American story. This is where the Friendship Nine started the "Jail, No Bail" Civil Rights protest strategy after students were arrested for a lunch counter sit in at McCrory's Five and Dine. It's also home to the Allison Creek community, where RevWar soldier William Hill operated a large ironworks, and where a community of disaffected citizens decided to migrate to Liberia. It's also a place with fine dining, shopping, cafes and breweries that can support family reunions. Begin your planning at VisitYorkCounty.com.
Florence / Darlington
This region has agricultural roots, mostly in tobacco. It is home to the Ronald E. McNair Life History Center that chronicles the childhood and experience of the astronaut who perished in the 1986 Challenger Space Shuttle Explosion. The region also proudly preserves and protects historic schools, churches, business districts and events, and interprets them in markers, tours and museums. Begin your journey at VisitFlo.com and DarlingtonSConline.com.
Orangeburg and Clarendon
These counties were hotbeds for the Civil Rights movement. At South Carolina State University is a monument to the teenagers killed during the Orangeburg Massacre. It anchors an historic district that features churches, businesses and other places where strategy sessions and gatherings took place. Just across Lake Marion is Clarendon County, where parents signed the Briggs vs. Elliott petition that formed the basis of the landmark Brown vs. Board of Education Supreme Court case. Find hotels and dining establishments here, but consider the Briggs vs. Elliott self-guided tour or this Civil Rights tour for Saturday morning activities during your family reunion.
For more information and locations, explore The Green Book of South Carolina's mobile travel guide for more ideas.