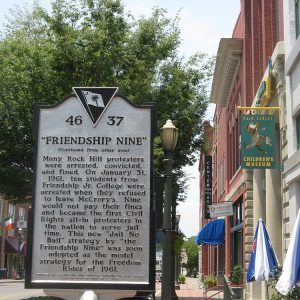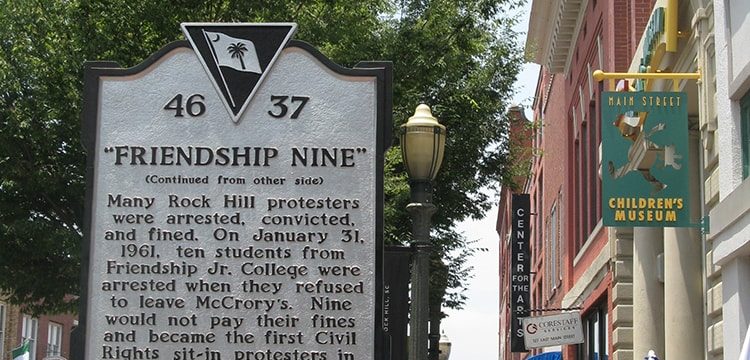 McCrory's Five & Dime: The "Friendship Nine" and the Sit-In Movement in Rock Hill
Inspired by the bravery of the Greensboro Four, roughly 100 Black students from Friendship Junior College in Rock Hill participated in the first sit-in demonstrations in South Carolina on February 12, 1960.  The students sat down at lunch counters in downtown drug and department stores such as Woolworth's, Good Drug Company, J.L. Phillips "RexAll" Drug Company, and McCrory's Five and Dime, just yards from where this historical marker is located.  Sit-in demonstrations and other protests against segregation continued for over a year.
On January 31, 1961, nine students from Friendship Junior College and CORE organizer Thomas Gaither were arrested when they refused to leave McCrory's after being denied service.  All but one of those arrested refused to post bail, opting instead to serve time.  Organizers of the Freedom Rides and later protest campaigns adopted the "Jail No Bail" strategy to pressure city governments to end segregation.
KEYWORDS: CIVIL RIGHTS, FRIENDSHIP NINE, MCCRORY'S, ROCK HILL, YORK COUNTY, LUNCH COUNTER SIT-IN