Press Release: Top 10 Places to Visit in South Carolina During Black History Month
Including places associated with the life and legacy of Dr. Martin Luther King, Jr.
African American heritage spans more than 300 years in South Carolina, dating even before 1670 when enslaved Africans were among the first settlers at Charles Towne Landing. Not only did South Carolina become a primary entry point for the transatlantic slave trade and a leader in the plantation model of agriculture, it was also fertile ground for Reconstruction and a hotbed for civil rights activism.
While the story is substantial and complex, the South Carolina African American Heritage Commission (SCAAHC) recommends the following Top 10 places that can provide a glimpse into this legacy and enrich a traveler's Black History Month journey.
For more information on Black History in South Carolina, visit GreenBookofSC.com, an online travel guide produced by SCAAHC of more than 300 heritage and cultural sites in the Palmetto State. You can also follow the Green Book on Twitter and Facebook using @GreenBookofSC and by searching the hashtags #BlackHistoryInSC and #Top10inSC.  For photography, interviews and other press material, media can contact SCAAHC vice chairperson Jannie Harriot at [email protected].
SCAAHC's recommended Top 10 sites are: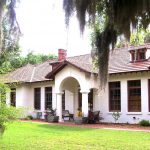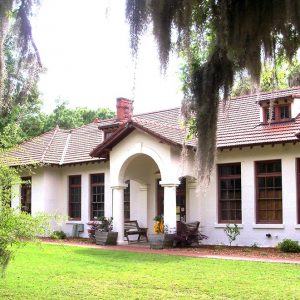 Penn Center near Beaufort — Penn School was founded in 1862 by northern missionaries and abolitionists who came to South Carolina after the capture of the Sea Islands by Union troops. The site and its collection of historic buildings were venues for education, the preservation and interpretation of sea island culture, and a strategy meeting for Dr. Martin Luther King Jr. before his March on Washington in 1963. In January 2017, Penn Center and other historic sites in Beaufort County were declared the nation's first Reconstruction Era National Monument by President Barack Obama.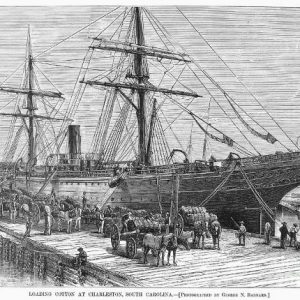 Gadsden's Wharf in Charleston – Gadsden's Wharf is the last and most important disembarkation point for enslaved Africans in North America. Completed in 1772 by slave labor, the wharf was most active between 1783 and 1808 when an estimated 100,000 African men, women, and children arrived and were sold into slavery. The 840-foot wharf, at the time the largest in North America, could accommodate up to six ships at once. It stretched between today's Calhoun and Laurens Streets and from the harbor to East Bay Street. Visitors to the wharf today will see the South Carolina Aquarium, Gadsden's Borough Park, the Charleston Maritime Center, and the National Park Service's visitors' center from which ferries carry passengers to historic Fort Sumter. Waysides at the site interpret the historical significance of Gadsden's Wharf, the work of the noted blacksmith Philip Simmons, and contributions of the civil rights activist Septima Clark. Gadsden's Wharf is the future home of the International African American Museum, currently in the planning stages.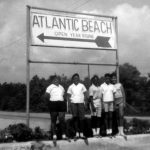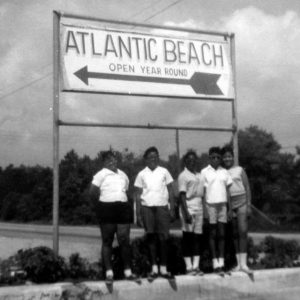 Atlantic Beach near North Myrtle Beach — Nicknamed "The Black Pearl," Atlantic Beach is one of few black-owned and governed oceanfront communities in the United States. It was established around 1934 as a destination for blacks who were denied access to other area beaches because of segregation laws. The area was one of the most popular beach resorts on the East Coast for blacks from Virginia to Florida. Its hotels, nightclubs, restaurants, shops, and pavilion were packed every May to September. As other area beaches began desegregating in the 1970s, fewer visitors came to Atlantic Beach. Today, the community is recapturing its legacy in homecomings and special events.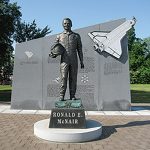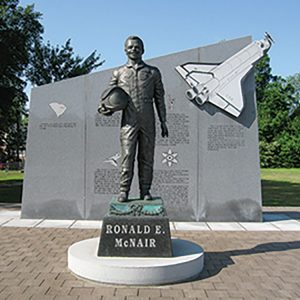 Ronald E. McNair Life History Center — Opened in 2011, the Ronald E. McNair Life History Center is a museum that pays tribute to the life of Dr. McNair, a Lake City-born astronaut and physicist who died in the 1986 Challenger Space Shuttle explosion. Through moving photography and artifacts, the museum tells the story of Dr. McNair from his childhood to his death. A renowned physicist who was a pioneer in the field of lasers, as well as an accomplished saxophonist, Dr. McNair from an early age showed a fascination with science and math and overcame the discrimination of the 1960s South to pursue those interests. Housed in Lake City's old public library, the museum sits next to Dr. McNair's gravesite along with a statue and square erected in his honor.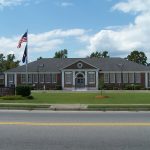 Liberty Hill African Methodist Episcopal Church and Summerton High School in Clarendon County — Meetings held in this church in the 1940s and 1950s led to local court cases that helped bring about the U.S. Supreme Court's landmark ruling desegregating public schools. Nineteen members of this congregation were plaintiffs in the case of Briggs v. Elliott, heard in U.S. District Court in Charleston in 1952. Although the three-judge panel refused to abolish racial segregation in South Carolina schools, a dissenting opinion influenced the Supreme Court's decision in Brown v. Board of Education (1954). Formerly all-white Summerton High School is the only school associated with the Briggs case that is still standing.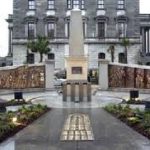 South Carolina State House / African American Monument (+ self-guided Civil Rights Tour down Main Street) in Columbia – as the state's center of government, the capitol building was a setting for the reshaping of public policy that supported civil rights. A monument to African Americans was installed on the grounds as part of a compromise to remove the Civil War battle flag from atop the state house dome. This monument illustrates the story of African Americans in South Carolina from their arrival during the slave trade to the modern age. Among the 12 scenes carved into the monument are images of a family on the auction block, men and women celebrating the Emancipation Proclamation, and African American pioneers in science, arts, law, education, sports and politics. At the base are four rubbing stones from regions of Africa where slaves were captured – Senegal, Sierra Leone, the Republic of Congo and Ghana. The Main Street Tour features markers where sit ins and protests were staged at drug stores and diners, and where Sarah Mae Flemming was removed from a city bus in June 1954, establishing an important legal precedent for the Montgomery Bus Boycott inspired by Rosa Parks.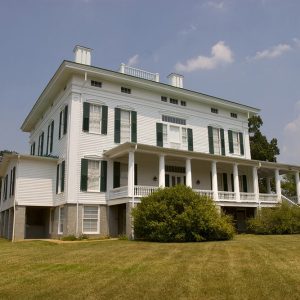 Redcliffe Plantation State Historic Site near Aiken — Redcliffe interprets the history of multiple generations of families (Henleys, Goodwins and Wigfalls) who were enslaved here and at other plantations owned by South Carolina Governor James Henry Hammond, or who worked as sharecroppers and/or paid employees from 1831 to 1875. In addition to touring the two historic c. 1857 slave cabins, visitors learn more from special exhibits and interpretive programs.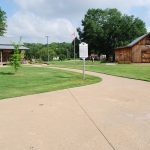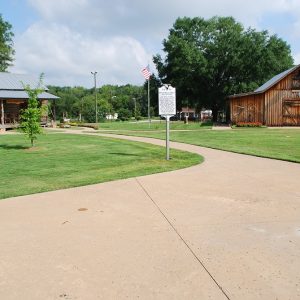 Benjamin E. Mays Birthplace near Greenwood – This house is the birthplace of Dr. Benjamin E. Mays (1894-1984), Baptist minister, college president, author, and civil rights pioneer. It was originally located 14 miles from this site in the Epworth community. Mays was the eighth child of Hezekiah and Louvenia Mays, both born into slavery. He was a graduate of Bates College and the University of Chicago and was an early and forceful opponent of segregation. Best known as president of Morehouse College in Atlanta (1940-1967), Mays was described by Dr. Martin Luther King, Jr. as his "spiritual mentor." Mays' inspiring memoir Born To Rebel: An Autobiography (1971) is a civil rights classic. This house was moved to its current location, renovated, and dedicated as a museum in 2011.  A seven-foot bronze statue of Mays was unveiled at this site in November 2017.
Springfield Baptist Church in Greenville – Springfield is the oldest black Baptist congregation in downtown Greenville. It was founded in 1867 by 65 freed slaves and four deacons who had been members of Greenville Baptist Church (now First Baptist Church), which had been a combined congregation of whites and blacks before the Civil War. Rev. Gabriel Poole, known as "Father Poole," was its first pastor. In addition to being a center for spiritual growth, Springfield Baptist Church was headquarters for non-violent civil rights protests in the 1960s. The church became pivotal in the movement on January 1, 1960 with a peaceful march from the church to the Greenville Downtown Airport. The march was organized after the keynote speaker for a state NAACP convention, Jackie Robinson, the first black Major League Baseball player, was denied use of the airport's waiting room. The church burned in 1972 and was replaced by the present building in 1976.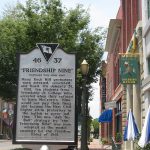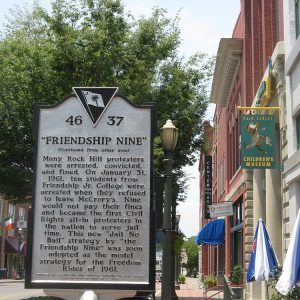 McCrory's Civil Rights Sit-ins / "Friendship Nine" in Rock Hill — This historic marker stands in front of historic McCrory's Five & Dine, where on Feb. 12, 1960, black students from Friendship Jr. College in Rock Hill were denied service at the lunch counter but refused to leave. On Jan. 31, 1961, 10 students from Friendship Jr. College were arrested when they refused to leave McCrory's. Nine would not pay their fines and became the first Civil Rights sit-in protesters in the nation to serve jail time. This new "Jail No Bail" strategy by the "Friendship Nine" was soon adopted as the model strategy for the Freedom Rides of 1961.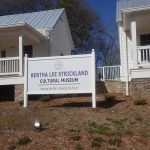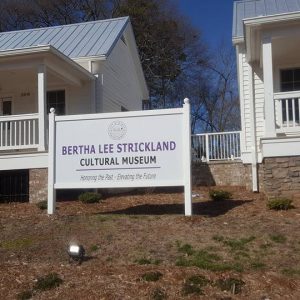 **BONUS* — Bertha Lee Strickland Cultural Museum in Seneca —  Bertha Lee Strickland Cultural Museum is the only exhibit museum in Oconee County that underscores the rich, colorful, turbulent history of the local African American community. As stated in its motto, "Honoring the Past – Elevating the Future," the museum incorporates technology and tradition to create a meaningful and educational experience for all ages. Rotating exhibits 2-4 times annually, BLSCM showcases ordinary people of the past and present whose stories and achievements will impact generations. The museum is open Tuesday-Saturday, 11am-4pm. Admission is FREE.
ABOUT THE GREEN BOOK of SOUTH CAROLINA
The Green Book of South Carolina is an award winning online travel guide to more than 300 African American history and cultural sites in the Palmetto State. Each entry comes with a brief narrative of its historic or cultural significance, driving directions to the site, contact information and ways to share experiences on social media.
Even its name is a story. The online guide pays homage to the original Negro Motorist's Green Books published from 1936 to 1966 and considered the nation's first travel guides for African Americans. The original guides listed safe places for African Americans to travel – including hotels, restaurants and gas stations – during the Jim Crow era.
For more information about the Green Book, including press materials, click here.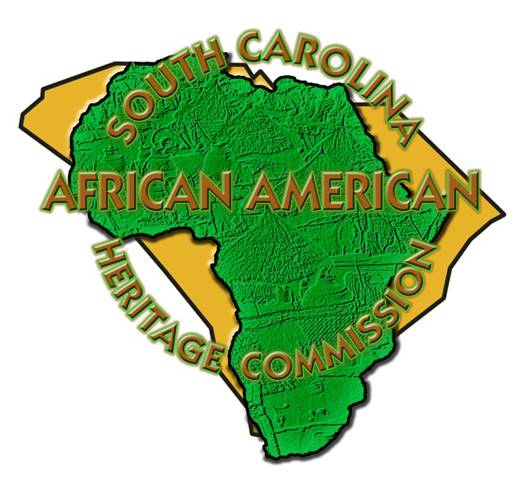 ABOUT THE SCAAHC
The South Carolina African American Heritage Commission is a state-affiliated organization of volunteer professionals, including historians, college and public school administrators, marketing professionals, arts educators and entrepreneurs, who seek to preserve and share African American culture in the Palmetto State. In 24 years of work, the group has installed more than 200 official state historic markers at under-recognized places, developed a curriculum-based teacher's guide to African American sites, and helped integrate African American culture in classroom art instruction.  The organization continues to work with state and local leaders on behalf of African American culture preservation and interpretation in South Carolina.