Under-told Stories to Discover for Veterans Day
As Recommended by the South Carolina African American Heritage Commission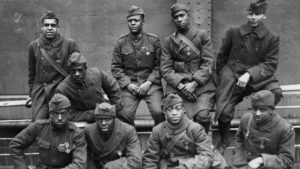 (featured photo courtesy of History.com) In 1917, the all-volunteer 15th NY Infantry trained for two weeks at Camp Wadsworth in Spartanburg, SC, before becoming the "Harlem Hellfighters" who fought on the front lines in France during WWI.
————————————————–
South Carolina, the colony that witnessed more Revolutionary War skirmishes than any other, and the state where the first shots of the Civil War were fired, is renowned for its military might.  African Americans in South Carolina were involved in every conflict, serving with distinction from the 17th century to the 21st, and from the Lowcountry to the Upstate.
For Veterans Day, the South Carolina African American Heritage Commission (SCAAHC) recommends visiting sites in the Palmetto State that document this patriotism to help people discover under-told stories of military service. Each site can be found in the Green Book of South Carolina, an online travel guide developed by the SCAAHC to more than 300 cultural sites associated with African American history and heritage. While on the website, search for "military" to find these and other places that interpret African Americans' role in the defense of the country.
Many sites are markers, require visits by appointment only or are best interpreted with guides. Plan accordingly before finalizing itineraries.
Hilton Head Island
This Civil War fort, named for Gen. Joshua Blackwood Howell (1806-1864,) was built by the U.S. Army's 32nd Colored Infantry and the 144th N.Y. Infrantry to defend Hilton Head and the nearby freedmen's village of Mitchelville from potential Confederate raids or expeditions. That village, just east of the fort, had been established by Gen. Ormsby M. Mitchel in the fall of 1862 and was named for him after his death. The fort was an enclosed pentagonal earthwork with a 23-foot high parapet and emplacements for up to 27 guns. Though Fort Howell never saw action, it is significant for its design and its structural integrity. It was listed in the National Register of Historic Places in 2011.
The site of the new Gullah Museum of Hilton Head Island rests on land that was purchased by William Simmons, who was born a slave and served in the 21st U.S. Colored Infantry during the Civil War. His granddaughter, Georgianna Jones Bryan, built this house in 1930 for her brother. It illustrates everyday life and the persistence of Gullah culture in an African American farm community. It was renovated as the museum in 2010-11.
Beaufort
By appointment only — The most prominent member of this historic church in downtown Beaufort was Robert Smalls – former slave, Civil War hero, state legislator and U.S. Congressman. During the Civil War, when Federal forces occupied Beaufort, the church hosted a school for Freedmen. First African Baptist was founded in 1865. It grew out of an antebellum praise house for black members of the Baptist Church of Beaufort. Rev. Arthur Waddell (1821-1895) organized the church with two fellow black ministers.
By appointment only — Although Beaufort's black military companies remained active after the Civil War, statewide the "Negro militia" rapidly declined during the 19th century. By 1903, the only units left were two companies in Beaufort. Many black Union veterans lived in the community, and after the war they formed the David Hunter Post #9 of the Grand Army of the Republic, an organization for veterans of the Union Army. Built in 1896, this meeting hall for the post is believed to be the only surviving building in South Carolina associated with the Grand Army of the Republic. It is included in the Beaufort Historic District.
HISTORIC MARKER — On June 1-2, 1863, a Federal force consisting of elements of the 2nd S.C. Volunteer Infantry (an African American unit) and the 3rd Rhode Island Artillery conducted a raid up the Confederate-held Combahee River. Col. James Montgomery led the expedition. Harriet Tubman, already famous for her work with the Underground Railroad, accompanied Montgomery on the raid. Union gunboats landed 300 soldiers along the river and one force came ashore here at Combahee Ferry. More than 700 enslaved men, women, and children were taken to freedom in perhaps the largest emancipation event in wartime S.C. Some Freedmen soon enlisted in the U.S. Army.
Charleston
HISTORIC MARKER currently located at Folly Beach Community Center — Folly Island was occupied by Union troops from April 1863 to February 1865. Gen. Edward A. Wild's "African Brigade," consisting of the 55th Massachusetts, made up largely of free blacks, and the 1st North Carolina, made up of former slaves, camped nearby from November 1863 to February 1864. A cemetery was laid out nearby for soldiers in Wild's Brigade who died here in 1863-64. Most graves were removed after the war. In 1987 relic hunters discovered additional graves of U.S. Colored Troops. In 1987-88 archaeologists removed 19 burials, these soldiers were reburied with full military honors at Beaufort National Cemetery in May 1989.
Kingstree
HISTORIC MARKER — Stephen Atkins Swails (1832-1900), U.S. Army officer and state senator, lived in a house on this site 1868-79. Swails, a free black from Pennsylvania, came to S.C. in 1863 as a 1st Sgt. in the 54th Massachusetts Volunteers (Colored), the first black regiment organized in the North during the Civil War. He was wounded twice and was commissioned 2nd Lt. by Massachusetts Governor John Andrew in early 1864. Swails, one of only about 100 black officers during the Civil War, was promoted to 1st Lt. in 1865. Afterwards he was an agent for the Freedmen's Bureau and practiced law in Kingstree. He was a state senator 1868-78 and served three terms as president pro tem. Swails was also intendant of Kingstree 1873-77 and edited the Williamsburg Republican. He is buried in the Friendly Society Cemetery in Charleston.
Walterboro
MEMORIAL — During World War II, the first African Americans in the U.S. Army Air Corps graduated from the Tuskegee Army Flying School in Alabama. From May 1944 to October 1945, some of them took further combat training at Walterboro Army Air Field in South Carolina. Several of the earliest "Tuskegee Airmen," who had already won fame in missions in Europe and North Africa, were assigned as combat flight instructors here. Trainees flew the P-39, P-47, and P-40 fighter planes and the B-25 bomber. Officers' quarters and enlisted men's barracks stood just east and just west of this spot, respectively.
Sumter
HISTORIC MARKER — Henry Johnson Maxwell (1837-1906), Union soldier, U.S. postmaster, state senator, and lawyer, lived here from 1874 until his death in 1906. Maxwell, the son of Stephen J. and Thurston Johnson Maxwell, was born free on Edisto Island. After serving as a sergeant in the 2nd U.S. Colored Artillery, he returned to S.C. to teach and work for the Freedmen´s Bureau in Bennettsville. Maxwell, postmaster of Bennettsville 1869-70, was said to be "the first colored postmaster in the United States." He was admitted to the S.C. Bar in 1871 and represented Marlboro County in the S.C. Senate 1868-1877. Maxwell and his second wife Martha Louisa Dibble Maxwell bought this 44-acre farm in 1874, raising eight children. He was a longtime member of Sumter Second Presbyterian Church.
Columbia
The Harden Street Substation was built in 1953 to employ the Columbia Fire Department's first African American firemen and to serve the predominately African American Waverly community. It was built after the NAACP threatened to sue on behalf of WWII veteran Clarence Mitchell who was denied employment because state law prohibited blacks and whites from working together in public buildings. Designed by Heyward Singley, a prominent local architect, the new substation was a state-of-the-art facility at the time, and a concrete step toward the integration of the Columbia Fire Department.
Spartanburg
HISTORIC MARKER — The 15th N.Y. Infantry, a volunteer National Guard unit of African American soldiers, arrived in Spartanburg Oct. 10, 1917, to train at Camp Wadsworth. Local whites feared racial violence like those of East St. Louis and Houston, and tensions rose for about two weeks. The War Department ordered the unit back to N.Y. on Oct. 24 and on to France. As the 369th U.S. Infantry, it joined the 4th French Army and its band won acclaim all over France for its concerts. It was the first American unit in combat, and was soon nicknamed "the Harlem Hell Fighters." It was at the front for 191 days, longest of any American unit in World War I.
——————————————————
About the SCAAHC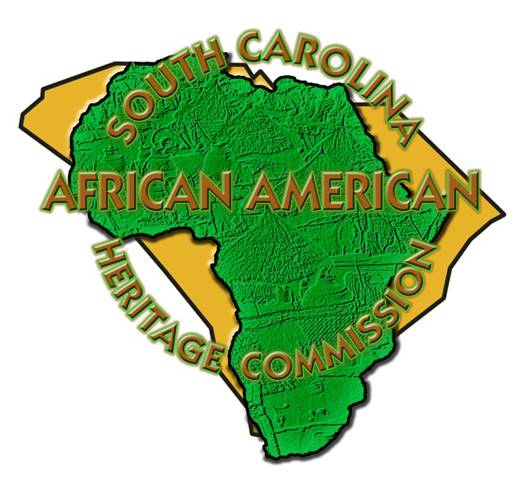 The South Carolina African American Heritage Commission identifies and promotes the preservation of historic sites, structures, buildings and culture of the African American experience in South Carolina; and assists and enhances the program of work at the South Carolina Department of Archives and History. In just 25 years, the Commission installed more than 200 official state historic markers at sites that were under-represented in the marker program, and has developed lesson plans and other curriculum-based resources to help teachers incorporate African American heritage into school instruction. The group also developed the award winning Green Book of South Carolina, an online travel guide to more than 300 African American heritage and cultural sites in the state to encourage travel to these communities.
The SCAAHC is a cadre of volunteer professionals of history, the arts, education, tourism and other professions. It is supported by the South Carolina African American Heritage Foundation, which is currently coordinating a fundraiser for its Silver anniversary called "25-for-25." The goal is to raise $25,000 by April 4, 2019 to help cover costs of the Commission's work.
The 15-member Commission includes representatives from all regions of the state. For more information, visit https://scdah.sc.gov/historic-preservation/resources/african-american-heritage/south-carolina-african-american-heritage or email to [email protected].
###