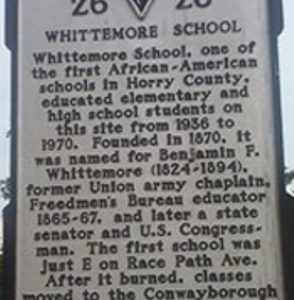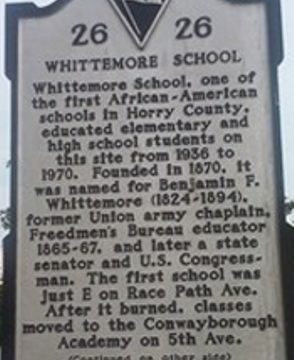 Whittemore School / Whittemore High School
This was one of the first schools in the county for black students and operated at this site from 1936 to 1970. Founded in 1870, it was named for Benjamin F. Whittemore (1824-1894), former Union army chaplain, Freedmen's Bureau educator 1865-67, and later a state senator and U.S. Congressman. The school closed when Horry County schools desegregated in 1970.
Marker erected by the Whittemore High School Historical Marker Commission, 2011.
KEYWORDS: UNION ARMY, FREEDMEN'S BUREAU, STATE LEGISLATOR, US CONGRESS, CONWAY, HORRY COUNTY, GULLAH GEECHEE CULTURAL HERITAGE CORRIDOR