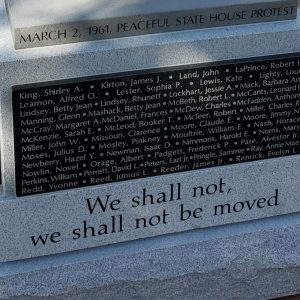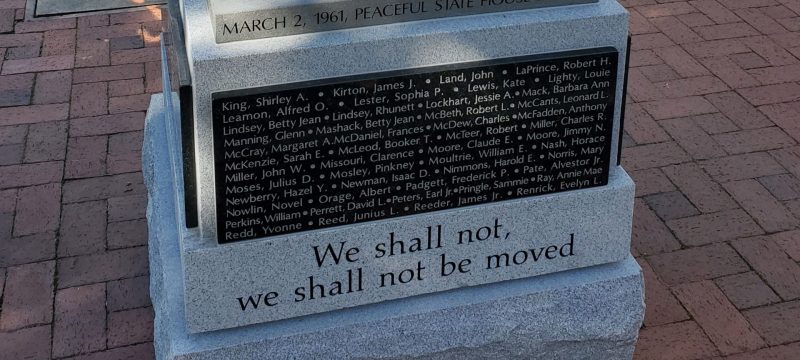 "We Shall Not Be Moved" Memorial
Artist's Statement
The three large granite pillars on which the "We Shall Not Be Moved" memorial sits represents the guiding principles for which the Civil Rights Movement was fought: to end institutionalized racial discrimination, disenfranchisement, and racial segregation.
Commemorating the sixtieth anniversary of the landmark event which took place on March 2, 1961, the memorial stands in testament. On that date, students who saw, what someday might be, peaceably marched from Zion Baptist Church to the South Carolina State House seeking the right of self-determination and equality.
Patriotic and religious songs reverberated in the air as the students marched and sang. No song better proclaimed the protestors' resolve than We Shall Not Be Moved. Symbolically, the memorial echoes the sentiment of those who marched:
"Just like a tree that's standing by the water, We Shall Not Be Moved. The union is behind us; We Shall Not Be Moved. We're fighting for our freedom; We Shall Not Be Moved. We're fighting for our children; We Shall Not Be Moved."
Carved deep into the velvety-gray South Carolina state stone, the verses are carved to stand the test of time and testify to the vision of those who marched on that day. Within the depths of the mirror-like South Africa black obelisk one can see reflections from the city streets of present-day Columbia surrounded by four pillars which represent our community. Inscribed into the black basalt panels are the names of the 187 men and women who marched, and were arrested, for what they believed.
With the four points merging into one on the apex top, the peak of the stone represents the hope that someday all people might be treated indistinguishably as peers.
Artist: Ron Scott Clamp, installed on March 2, 2021. Courtesy of Columbia S.C. 63.