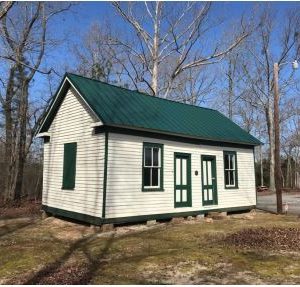 Holly Springs School
Holly Springs School is locally significant as an early example of an African American school in Greenville County, South Carolina. Built ca. 1891, the school is a single-story, one-room, wood-frame building with a double front entrance. The building faces east and is located on Holly Springs Road in a rural area of southwestern Greenville County. The school stands as a symbol of the
educational struggle of freed men and women in the late 19th century as they worked to overcome the lingering effects of slavery-era anti-literacy laws and provide their children with education despite the re-enshrinement of white supremacy following Reconstruction.
It continued to serve nearby black families until 1951, when Greenville County officials shuttered the school as part of a statewide campaign to equalize, and thereby preserve, segregated education. The property thus has multiple significant associations with the historical education of African Americans in Greenville County, extending across several decades. Listed in the National Register October 7, 2019.