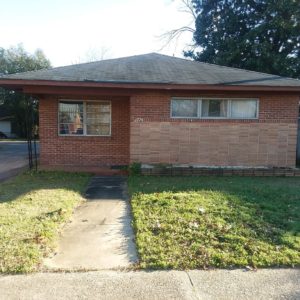 Dr. C.O. Spann Medical Office
Chester native Dr. Cyril O. Spann, a graduate of Benedict and Meharry Medical Colleges, was a Black physician and surgeon who operated a medical practice out of this building while also employed at the nearby Good Samaritan-Waverly Hospital. Dr. Spann served as the GSWH chief of staff from 1966 to 1973.  Unlike most Columbia hospitals where Black patients endured segregated waiting rooms and hospital wings, Spann's medical office provided first-class care.  Through rigorous study and preparation at Meharry, Dr. Spann became the only professionally-trained Black surgeon in South Carolina during the 1960s and 1970s.  He often traveled across the state to provide his much-needed surgical expertise to Black patients.
In addition, Dr. Spann was also a committed civil rights activist.  He provided financial support for 187 student activists and NAACP leaders arrested during a mass demonstration at the South Carolina State House on March 2, 1961.  After several appeals, the U.S. Supreme Court ruled in Edwards v. South Carolina (1963) that the Fourteenth Amendment does not permit the State "to make criminal the peaceful expression of unpopular views."  Civil disobedience was declared a legal act performed by citizens of the state to express their grievances.
African American physicians exclusively operated The Dr. C.O. Spann Medical Office from 1964 to 1995.  Other physicians who provided care included Dr. Albert Reid, Dr. Everett Dargan, Dr. Gerald Wilson, Dr. Burnett Gallman, Dr. Ronald Johnson, the late Dr. Vera McBryde, and medical professionals with the Eau Claire Cooperative Health Center Annex.
This historic site was added to the National Register of Historic Places in 2019.