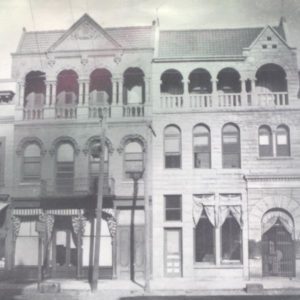 Canal Dime Savings Bank / Bouie v. City of Columbia (1964)
This three-story building was designed by the noted Columbia architectural firm of W.B. Smith Whaley and Co. Completed in 1895 and featuring a granite facade and red barrel tile roof, the building is a rare example of Romanesque-style architecture in Columbia. Originally built to house the Canal Dime Savings Bank, the building was acquired by Eckerd's Pharmacy in 1936 and continued to operate as a drugstore until the 1980s.
On March 14, 1960, African American college students Simon Bouie and Talmadge Neal led a protest march to the Eckerd's luncheonette in downtown Columbia. They were jailed and convicted for refusing to leave their seats after being denied service due to their race. In Bouie v. Columbia (1964), the U.S. Supreme Court overturned their convictions. The sit-in demonstration was part of broader protest movements against racial segregation in Columbia and the nation.
The historical marker for Bouie v. City of Columbia was sponsored by ColumbiaSC63, 2017.