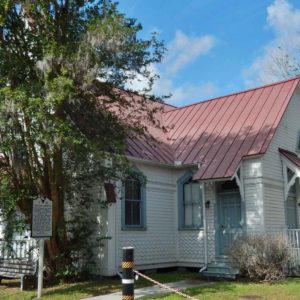 Berean Presbyterian Church / J.I. Washington Branch Library
Samuel J. Bampfield, an influential African American political figure during Reconstruction, was the founder of Berean Presbyterian Church. He served as postmaster, clerk of the Beaufort County court, and a member of the South Carolina House of Representatives.  The congregation purchased this lot in 1892 and built a Gothic Revival style church.  Solomon P. Hood, a future U.S. Minister to Liberia, was appointed as its first pastor.
The Beaufort Township Library purchased the building in 1931 and used it as a segregated library for African Americans.  After the desegregation of the Township Library, the segregated branch closed.  Later, the Neighborhood Youth Corps used the building as its headquarters. USC-Beaufort purchased the site in 1993 for use as an art studio.
KEYWORDS: BEAUFORT COUNTY, BEAUFORT, PRESBYTERIAN, RECONSTRUCTION, GULLAH GEECHEE CULTURAL HERITAGE CORRIDOR